To bring together people for a sharing of knowledge, exchange of ideas, formation of deeper connections, and global inspiration.
Co-founded in 2019 The Gathering Rose is a partnership between Danielle Hahn of Rose Story Farm and Felicia Alvarez of Menagerie Farm & Flower. With over 40 years of combined farming expertise they wanted to create unique experiences to share their love of garden roses. From unique educational workshops to inspirational retreats The Gathering Rose is not a singular location but a place for farmers, floral designers, gardeners, writers, artists & dreamers to gather and experience the beauty that garden roses bring to the world.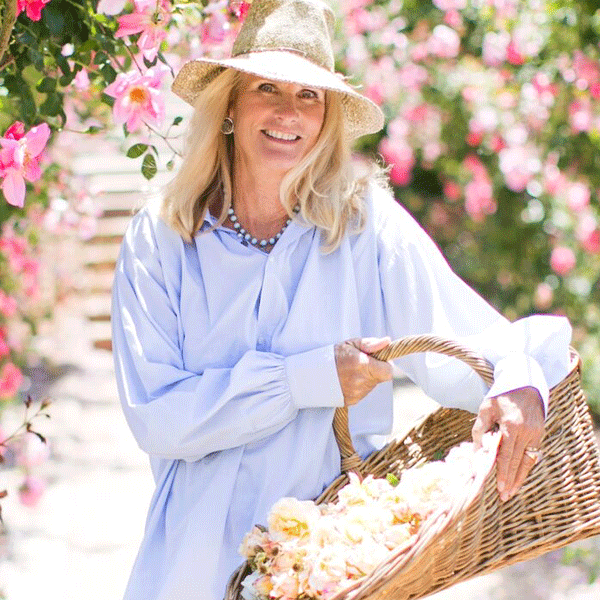 Growing from a life long love of flowers and gardening, Danielle has grown Rose Story Farm to the largest garden rose farm in the United States. Founded in 1998, from the first day her mission was to produce beautiful, fragrant, romantic garden roses in exquisite shapes and colors. Now more than 25,000 bushes of 120 varieties are scattered over the 15 acre farm in Santa Barbara County, California. A major theme of her lifelong educational effort is to demystify the process of growing and caring for roses. She always says, "Roses are magical and forgiving–they repay any effort on their behalf ten-fold."
Danielle and Rose Story Farm have been featured in Better Homes & Gardens, Santa Barbara Magazine, Wine Country Living, Sunset, Victoria Magazine, the Oprah Magazine, Martha Stewart Living, Veranda, Cottage Journal, Wall Street Journal, California Heartland and The Today Show.
In 2014, Danielle was presented with the prestigious award of Great Rosarian of the World. She joined a very exclusive club with only a handful people achieving this exceptional honor. The farm is a family-owned business, with her husband Bill and her two sons, Will and Geoffrey helping along the way.
She has successfully blended small-scale niche farming and educational outreach that is recognized as a model for small family farms. Her love of organic rose growing is infectious and she enjoys sharing her love of the rose with everyone she meets. Follow along with Dani's farm adventures @rosestoryfarm.
Felicia is a third generation farmer and has been farming for over two decades. Nestled at the base of the Sutter Buttes, in the heart of the Sacramento Valley she founded Menagerie Farm & Flower specializing in garden roses, specialty flowers, French prunes, assorted stone fruits, nuts and rice on over 100 acres of beautiful California farmland.
Her favorite memories as a child were tending to her grandmother's farm garden filled with fragrant garden roses. Her love of flowers made her an avid gardener and in 2014 an accidental flower farmer.
With degrees Crop Science and Agricultural Business, Felicia's sustainable farming practices are an all-inclusive approach from pioneering advanced techniques in irrigation management, adopting soil management and erosion controls to using new technology for organic pest management control.
Menagerie Farm & Flower is a member of the Association of Speciality Cut Flower Growers, Slow Flowers, the American Rose Society and the farm is Certified American Grown.
Felicia is a member of Sunsweet Growers is an appointee to the California Cut Flower Commission Promotions Committee. She makes her home on the farm with her husband Jeff and two young sons, Joseph & Graham. Each day she strives to grow products that will make everyday life more beautiful for your home & table. Follow along with Felicia's farm adventures @menagerieflower.